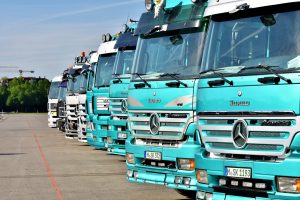 How can you be certain that you are obtaining the right driving licence? The freight industry is currently thriving, and there's a high demand for lorry and van drivers. So, if you are on the search for CPC training in Hampshire in order to get your lorry licence, then you might be a bit confused over the terminology.
After reading about the topic in brochures, newspapers, trade magazines and even online, chances are you have realised that many firms use the term HGV, others LGV and some a combination of the two to refer to lorry jobs with a gross weight of over 7.5 tonnes.
So, Is There a Difference Between HGV and LGV?
For those who are just getting into the logistics and transport domain, the terminologies HGV and LGV can be particularly confusing. You might not be certain about the licence you require for the job that you want to take on.
First, you need to know that in the United Kingdom, the term 'licence' is spelt with a 'c', but if you use the term 'license', you do not have to fret as it will not hinder you from getting a lorrying job. However, you may want to use both terms when searching for jobs online in order to improve your chances of landing a role.
The next step is to learn about the two synonyms. LGV is an abbreviation for Large Goods Vehicle, while HGV stands for Heavy Goods Vehicle. In the United Kingdom, the HGV and LGV licences are one and the same. They cover all commercial lorries with a gross combination of over 3,50 kg, which includes Lutons, tippers, drop sides, ADR, box vans, fridge lorries, etc.
Confusion usually arises when people use the term LGV in an incorrect manner. Some think that it is an abbreviation for Light Goods Vehicle, often referring to vans and lorries with a gross mass of under 3,500 kg. As a matter of fact, you can drive up to 3,500 kg with your standard car driving licence.
So, Where Does the term HGV Come From?
In the United Kingdom, vehicles get taxed in regards to their construction, engines, type of fuel, emissions, weight and the intended use of the vehicle. The term HGV came up when tax disc initially came into the country and was designed to categorise vehicles for tax reasons.
At the time, vehicles with a gross weight of under 3,500 kg were known as Light Goods Vehicles and those with a total weight of over 3,500 kg, Heavy Goods Vehicles or HGVs.
However, in 1992, vehicles with over 3,500 kg gross weights were categorised as lorries in order to match the European Licence. As such, the term LGV as changed from Light Goods Vehicles to Large Goods Vehicles. Simply put, there is no difference between LGV and HGV today.
In 1992, the licence categories were changed. What went by HGV class 1 is now referred to as LGV C+E, while the old HGV Class 2 training is known as LGV C.
Some individuals still refer to the traditional style of categorisation, and so, do not be surprised if you find advertisements on HGV Category C or LGV Class 1 driving jobs.
In the past, there was an HGV Class 3 licence as well. The closest we can get to that today is LGV C1. Holding such a licence will allow you to drive vehicles between 3,500 kg and 7,500 kg. This is important if you intend to drive a restricted size vehicle like an ambulance or a horsebox. Most home and local delivery vehicles fall under the C1 category.
However, most drivers who want to drive professionally often upgrade straight from a standard car licence to LGV C, thus enabling them to drive vehicles of up to 32,000 kg or 32 tonnes. Some people even take back-to-back training and get into LGV C+E immediately in order to be able to take vehicles with trailers of up to 44 tonnes on the road. An example would be an articulated vehicle or a drawbar combination.