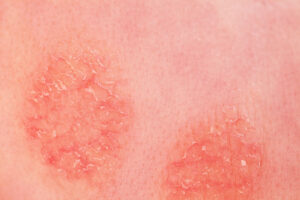 Eyelid eczema is on the rise among middle-aged women and experts believe this is due to decades of wearing daily cosmetics that causes eyelids to become sensitive and intolerant to the dyes and chemicals in many eye cosmetics.
This was certainly the case for ex-model, Dadina Howard, 40, from Hampshire
Dadina developed eczema on her eyelids two years ago after what she thinks was two decades of a career as a model.
"I started getting itchy dry eyelids about two years ago. I have never had any skin issues before so I thought it was some kind of allergy to something like hay fever. But when I went to see a dermatologist I was told that in fact it was eyelid eczema was probably as a result of my skin reacting to cosmetics. When I told him about my career as a model he said then that would explain it and that I was not the first model he had treated with eyelid eczema,' says Dadina.
Eyelid eczema is also common among actresses as well as models. The actress Elle Fanning has often spoken openly on Twitter about the battle with her eyelid eczema which she puts down to having to wear so much make up for her acting roles.
Dadina's dermatologist also told her that many anti-ageing products designed to reduce ageing around the eyes contain ingredients that could irritate the delicate skin around the eye and lead to eyelid eczema. Retinol is one ingredient that can often lead to irritation around the eye area.
Unlike eczema elsewhere on the body, eyelid eczema is often the only site where the eczema appears due it being caused by contact eczema from frequent contact with eye cosmetics as opposed to atopic eczema as is often the case with eczema on different sites on the body. 
Not only is eyelid eczema irritating and uncomfortable, it's also very visible and can also can cause some more long term skin issues such as thickening of the eyelids, darkening of the skin of the eyelids and due to frequent skin inflammation, it can also lead to a condition known as an Atopic Pleat, which is an extra fold of skin that develops under the eye.
For Dadina, who still now works as a mature model from time to time, clear skin is essential
'When I started getting red and inflamed eyelids it was really visible. My eyelids felt hot, itchy and were sometimes swollen. It was irritating and looked awful. I was told by my dermatologist that if the condition got really bad that it could cause permanent discolouration to the skin on my eyelids. This really worried me as I still work as a model for clothing catalogues,' says Dadina. 
"I was told that I couldn't use steroids on my face, especially near my eyes as they can cause permanent colour changes and thinning of the skin. But I urgently needed something I could use to stop my eyelids from itching so badly.'
Typical treatment prescribed for eczema are steroids creams. However, due to the damaging side effects of steroid creams to the skin, use of them on the face is largely discouraged.
In particular use of corticosteroids around the eyes can cause other health problems including a high risk of Glaucoma, a serious eye disease as well as discolouration, thinning and spider veins in the delicate skin tissue around the eye.
"Through a recommendation from a friend I discovered Skin Shop's Hydrosil  Dry Eye Gel . It's an eye gel made from plant-based ingredients that mimic the action of steroids but without the risks that has been specifically developed for eye eczema. It was exactly what I had been looking for," says Dadina.
Hydrosil Dry Eye Gel contains a plant extract of Cardiospermum, which comes from a vine grown mostly in South American regions and both its seeds and leaves have been used in traditional South American medicine for use on eczema and inflammatory skin conditions.
More recently two UK trials and more than 12 published research trials have been carried out on Cardiospermum due to its anti-inflammatory effects on eczema and dermatitis. In one recent double-blind study carried out in Germany, Cardiospermum was found to have a significant anti-inflammatory effect without any side effects.
Hydrosil Dry Eye Gel has been tested on eyelid eczema sufferers and developed to be an extremely gentle and light formulation. It's suitable for very sensitive, itchy dry skin around the eye and on the eyelids. 
'Within 2-3 days of using the Dry Eye Gel the itching and swelling on my eyelids had virtually gone. Within a week there was no trace of it, " says Dadina. "I now use the eye gel every day under any makeup I wear and also at bedtime after I have cleansed and I have not had any recurrence of my eyelid eczema in over eight months now.
'Not only has my eyelid eczema all but gone, the skin around my eyes now is soft and supple again and doesn't itch at all. My husband thinks I even look younger. I'm delighted I found this magical little tube of eye gel. I'll be using it forever.'