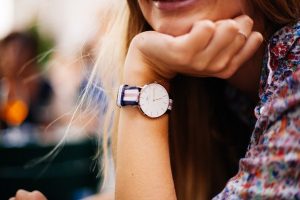 Going into any store, you will know that there is a lot of oranges and reds around this season. According to The Pantone Colour Institute, this season will see some bold and strong colours. While there are many people who feel that Orange Tiger and Chili Pepper are too bold for their fashion sense, there are accessories you can try. Brightly coloured bags can add the splash of colour you need this season.
Checks And Prints
The last season was all about prints from polka dots to floral prints. This season is going to be defined more by checks. If you do not have any checked clothing in your wardrobe, you should invest in a blazer or trousers with this design.
The AW19 catwalk was full of bold yellow and red checks, but the trend will be diluted as it comes to the high street. You can expect soft check patterns that have mustard, olive and brown instead.
While neon is set to stay around for a while, so are animal prints. However, there is more focus this season on mock snakeskin with jewelled and muted tones. This means that you will be seeing a lot of mock snakeskin boots around. If you do not have any animal prints, you can update your style with a bag, hair accessory or scarf with the prints that you want and love.
Statement Bags
The summer was full of tiny totes, but this is long gone. This autumn you will be looking for supersized statement bags, like a 3 n 1 tote bag. This is a practical choice as well as a fashionable one as you can fit everything you need to survive the changing weather.
When purchasing your statement bag, you should look for rich autumnal tones or metallics. If you do not want to get a new bag, you can use an old one that you have. Bag straps are very popular and you will be able to change your style as you need. With different straps, you will never have to worry that your bag does not fit the rest of your outfit.
Vintage Girly Style
You can embrace the season with some fairytale fashion. This means feathers on dresses, blouses with puffed sleeves and skirts with ruffles. There is also a reappearance of pearl earrings which is the ultimate in feminine fashion.
Models on the catwalks of Prabal Gurang, Chanel and Burberry were all sporting pearls from baroque earrings to heart-shaped drops. This has brought the old pearl trend into the new century. If you are looking for something a bit more subtle, a pearl stud earring might be the best option and the easiest to get for your jewellery box.
Knits And Belts
Your favourite oversized knitwear is the perfect item to slip into after the exposed days of summer are gone. This season will see argyle knits and chunky jumpers being the order of the day. This can be a great relief to many people and you never have to worry about looking frumpy because of the other trend that compliments your knitwear.
You have probably seen them in stores already and that is wait-cinching belts. This is a classic from the '70s and will be big this season. Getting one of these belts can easily update your style. The belts can also go with anything you have in your wardrobe from knitwear to coats. This trend also enhances the feminine silhouettes which are popular this season adding to the feminine styles of pearl earrings.